TECHNOLOGY:
LegalTypist is powered by Sten-Tel®
LegalTypist selected Sten-Tel® to use with attorneys and law firms in 2004 due to it's robust security, deep understanding of the requirements of "legal" and end user friendliness. Sten-Tel's tech is a "digital dictation and transcription ASP" and it holds 2 patents. It is also referred to as Software as a Service (SaaS) or cloud based technology.
LegalTypist fashions custom digital workflows using Sten-Tel: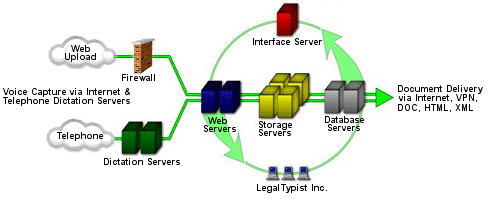 Our users access their System accounts and workflow using a standard telephone and/or internet connection to upload new work/download completed files directly from secure accounts. Sten-Tel's servers are located in Massachusetts and are physically maintained by the team of on site Sten-Tel engineers.
All the people, processes and technology of LegalTypist are resident on US soil.