What makes LegalTypist the best solution for your firm?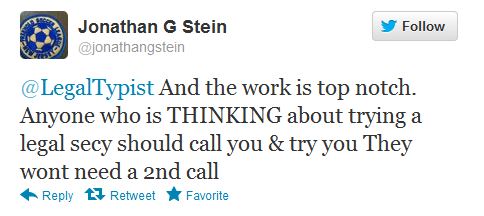 "Andrea listened to our concerns, was able to answer our questions about the options available, and put in place a process which has significantly reduced the turnaround time of our documents, our initial objective. Working with LegalTypist has also allowed our firm to reallocate in-house support resources and provided an easy to implement and secure method for attorneys to work remotely, further compounding the benefits of upgrading to digital from a tape-based dictation process."
Michael V., IT Administrator
"Since my very positive experience with your service, I've recommended you to many others in my area. I think you are on the leading edge of providing services to a new practice paradigm that will ultimately make traditional law firm operations - with teeming support staff and stratospheric overhead - increasingly rare."
Fred McCormack, Esq.
"As a small practice in a rural area, finding the support staff to turn out quality work on a timely basis is always an issue. LegalTypist is the answer. Fast, friendly, and cost-conscious are a few words that describe my experience with LegalTypist."
Todd Starr, Attorney
"I have relied on the services of LegalTypist for nearly 11 years and can unequivocally state that the organization is most professional, courteous, and competent. If faced with a deadline or an intricate pleading, motion, or agreement, I will not hesitate to contact Andrea at the main office for assistance. The staff with whom I have dealt over the last three years has always demonstrated a true professional commitment, irrespective of when I have called to avail myself of their services. It is of great comfort to me to know that no matter what the task or time constraint, experienced people will be available to handle the support end of the matter. I consider this an invaluable asset to my practice."
John Lawrence, Esq.
LegalTypist provides fast, reliable and convenient service. The best part is as a small business, LegalTypist is very responsive. That part is priceless!
William E. Manning, Managing Owner
Sellar Hazard Manning Ficenec & Lai
LegalTypist is the best. You have helped take a lot of stress off when there are time crunches!
Michael Schiller, Esq.
LegalTypist's quality of work and responsiveness have far exceeded my expectations. Their consistent dependability has not only reduced my firm's expenses, but also my stress level.
Gary Jackson, Esq.
"This service helps a great deal. I work for a very heavy work producer and without LegalTypist, I couldn't keep up with him."
Secretary at 50+ PA law firm.