Grab a copy of our Account Set Up Form: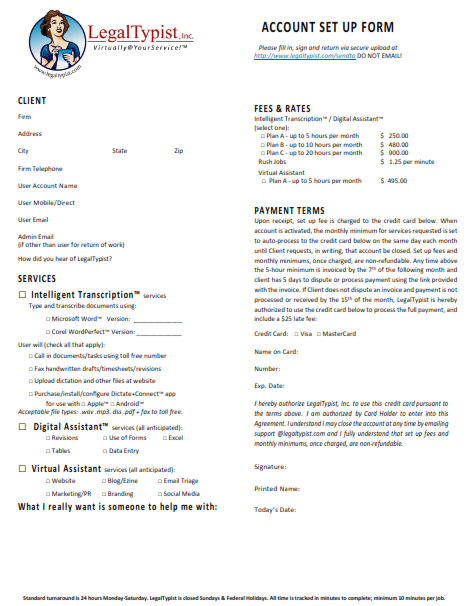 ---
Please Note:
Digital Assistant™ time is non-refundable and must be used within 30 calendar days of purchase.
LegalTypist processes files 6 days per week (Monday - Saturday) and is closed Sundays and Federal Holidays.
All Digital Assistant™ time is tracked in minutes to complete; 10 minute minimum per job.
Once your account is set up, the appropriate time for you preferred Plan is added to your Workflow and you will receive our Welcome to LegalTypist email with full details on how to get work in process, your samples/templates stored, etc.
What Happens Once You Open An Account?
All your needs are taken care of in less than 24 hours. You call in, tap an app, upload, or fax your work and within 24 hours (Monday through Saturday) receive back a link to securely download your documents/file(s).
You get to stop working all the time! At a fraction of the cost to locate, hire and maintain an employee you have a Digital Assistant™ expertly performing the secretarial and administrative tasks that are a drain to your time and bottom line.
You free up in-house staff. Don't tie up valuable staff time on initial drafts transcription and data entry work! Remove these time consuming tasks and reap hours in gained productivity!
You have nothing to buy, nothing to update, nothing new to learn. If you can dial a toll-free, tap an app or securely upload files directly at our site, you're good to go! Best of all - no learning curve for you or your staff to get started.
PLUS YOU ALSO GET:

Secure technology and experienced personnel. Security and confidentiality are our highest priorities. Our CEO, Andrea Cannavina, has been actively researching and testing technology for over a decade.

Satisfaction guaranteed. If you aren't completely satisfied with any document or job, just call! We'll listen to your concerns, make the necessary corrections or issue a prompt and courteous refund.

A way to eliminate the "To Do" pile. There's always something more important to do, but that doesn't mean you can let office and administrative tasks pile up. Use your LegalTypist Workflow to get your to do list- ta done!

Working with LegalTypist has allowed our firm to re-allocate in-house support resources and provided an easy to implement and secure method for attorneys to work remotely, further compounding the benefits of upgrading to digital from a tape-based dictation process.
As a small practice in a rural area, finding the support staff to turn out quality work on a timely basis is always an issue. LegalTypist is the answer. Fast, friendly, and cost-conscious are a few words that describe my experience with LegalTypist.
LegalTypist has been great. When I initially signed up I sent my letterhead and memo templates, as well as my formatting preferences. The work product they deliver is impeccable.