Innovative Company Provides Attorneys with an Option to Traditional Staffing
LegalTypist, Inc., a secretarial outsourcing and off site digital transcription service devoted to helping attorneys handle their document production needs is opening the door to virtual assistance in the legal profession. Using the internet, fax, e-mail, telephone and computer file transfer technology, attorneys can now outsource their word processing and other administrative duties to a professional service at a fraction of what it would cost to locate, hire, train and maintain comparably qualified in-house staff.
By combining her extensive knowledge of the legal profession, years of business experience and modern technology, Andrea Cannavina, founder and CEO of LegalTypist, Inc. is one of a growing number of Virtual Assistants who is leveraging the internet to open the market for her own service-oriented business.
---
MORE:
LegalTypist CEO Andrea Cannavina interviewed for the Legal Talk Network
December 2018
Organization for the Holidays – How to Be Merry in Your Law Office
Andrea Cannavina gives advice to lawyers on how to increase efficiency this holiday season.
Prep your law office for a less stressful holiday season with some sensible workflow management tips. In this episode of Legal Toolkit, host Jared Correia talks to Andrea Cannavina about her advice to lawyers for increasing efficiency this holiday season. They also offer insight into how to make smart tech choices for your firm, give their top holiday gift recommendations, and discuss Gene Autry's unparalleled rendition of "Rudolph the Red-Nosed Reindeer."
LegalTypist CEO Andrea Cannavina interviewed for the Lawsome Podcast
May 2018
In this episode we talk about legal work and how law firms are defining their flows and getting the help they need. We also interview LegalTypist.com founder Andrea Cannavina and learn how her company helps lawyers and law firms outsource legal work.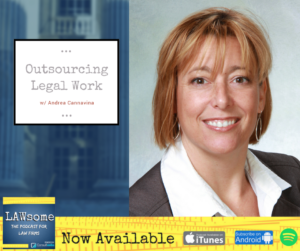 LegalTypist CEO Andrea Cannavina interviewed for Legal IT Professionals
April 2013
Christy Burke reports from the ABA TECHSHOW, the annual legal technology conference of the American Bar Association. During the show, Christy interviewed a couple of legal IT leaders and asked them about their companies, new products and impressions of the conference, including event speaker and LegalTypist CEO Andrea Cannavina.
Tech Talk: Digital Assistant Logs in Remotely
A virtual assistant that provides typing and administrative services for law firms found that an online service enabled seamless and secure access to her office PC from any computer with an Internet connection.
LegalTypist, a virtual assistant practice headquartered on Long Island, N.Y., uses secure technology paired with specialized contractors to help attorneys and law firm administrators upgrade to digital and get the work done.. Andrea Cannavina, the founder, tells IncTechnology.com that by using secure remote access technology, she can easily access files and control her home office computer from anywhere.
MEDIA:
Requests for interviews and to republish content should be directed to support @legaltypist .com.